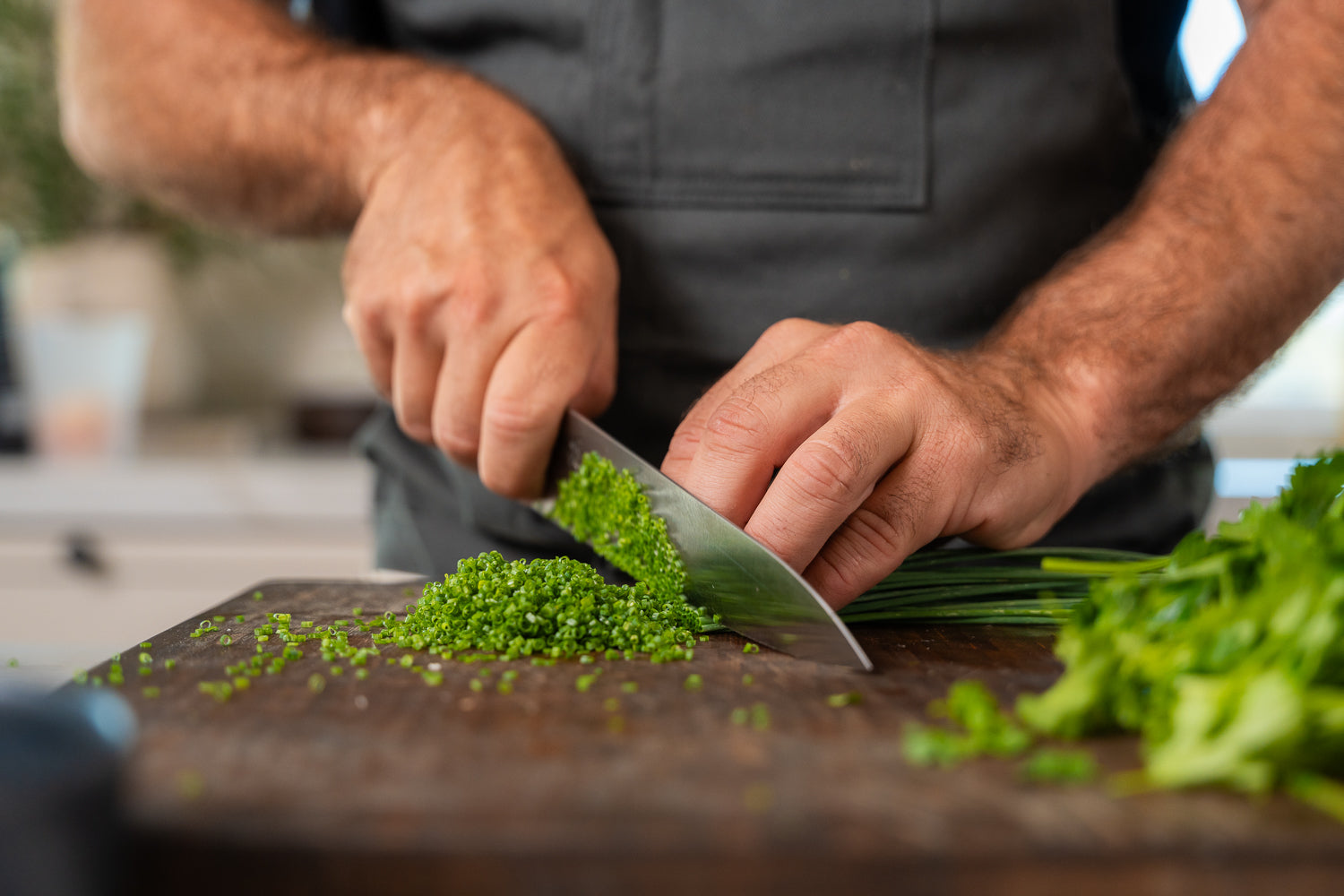 Pasture Raised Steak, Chimichurri, and Cauliflower Puree
Impress your loved ones with a culinary masterpiece featuring a pan-seared Pasture Raised Steak, creamy Cauliflower Puree, and vibrant Broccoli Chimichurri.
Our star ingredient, the Pasture Raised New York Steak (Ribeye, Flank Steak, Filet, Top Sirloin will all work as substitutes), is grass-fed and finished, ensuring a healthier, more flavorful choice. The marbled tenderness of the New York Strip is a premium delight.
Paired with low-carb cauliflower puree and zesty Broccoli Chimichurri, this recipe offers both exquisite flavors and nourishing benefits, making it a must-try for a delightful and wholesome dining experience.
Watch full recipe video below featuring Farmer Austin.
 Servings

2 Servings

Prep Time

40 Minutes

Cooking Time

25 Minutes

Calories

874kcal
Ingredients
For the Steak:
For the Cauliflower Puree:
½ head cauliflower
1 cup onion, diced
1 ½ cup cream
1 clove garlic
Salt and pepper
For the Broccoli Chimichurri:
½ head of broccoli
2 tablespoons parsley, chopped
2 tablespoons cilantro, chopped
2 tablespoons chives, minced
1 tablespoon champagne vinegar
1 clove garlic
½ shallot
Olive oil
Espelette pepper (optional)
For the Fried Shallots:
3 cups avocado oil
1 cup all-purpose flour
Salt
Directions
1. Cauliflower Puree: 
Start by chopping the cauliflower into small, two-to-three-inch pieces and dicing half an onion.
2. Place a saucepot on medium to high heat and add avocado oil. Sauté the garlic and onions for two to three minutes, then add the cauliflower and heavy cream.
3. Simmer until the cauliflower is tender, then use an immersion blender to blend until smooth. Keep it warm while you prepare the rest of the dish.
4. Broccoli Chimichurri:
Cut the broccoli into small bite-sized pieces and finely chop cilantro and parsley, setting them aside.
5. In a mortar and pestle, mash one garlic clove, one shallot, and a teaspoon of Espelette pepper (if using). Set this mixture aside.
6. Cut the remaining shallot into small dice and soak them in a bowl of champagne vinegar for at least half an hour.
7. Heat a cast-iron skillet on high heat and add avocado oil. Sear the broccoli until it gets a nice dark color on each side and becomes tender. Remove it from the skillet.
8. Combine all the ingredients for the broccoli chimichurri in a mixing bowl. Add olive oil, salt, and vinegar liquid from the diced shallot to taste.
9. Fried Shallots:
For the fried shallots, dip each ring in all-purpose flour, shake off the excess, and fry them in hot avocado oil (around 350 degrees) until golden brown. Season with salt.
10. The Steak:
Season each side of the steak heavily with salt.
11. Heat a cast-iron pan on high heat and add some avocado oil. Place the steak into the pan away from you to prevent oil splattering. Sear it on each side for about two minutes.
12. For the butter baste, drop in about three tablespoons of butter, garlic, and fresh herbs. When the butter starts bubbling, baste the steak with a big spoon for a minute or two on each side.
13. Transfer the steak to a 425-degree oven for another minute or two. Remove it, let it rest for a moment, and then you're ready to plate your dish.
14. Plating:
Begin by placing a generous portion of cauliflower puree on the bottom of your plate.
15. Cut the New York strip into four equal-sized strips, season with salt, and place them over the cauliflower puree.
16. Top the steak with the charred broccoli chimichurri for a burst of freshness and flavor.
17. Finish the dish with the crispy fried shallots on top.